In the last quarter of this year we have welcomed a few new colleagues.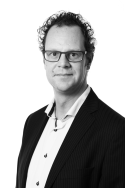 Bart Linders is an all-round experienced BI professional with extensive Microsoft knowledge. He has strong analytic skills and can handle all technical and functional aspects of BI. He can learn a customer's business in no time while maintaining a helicopter view.
Ron van Rooij is an entrepreneurial business / IT consultant with broad interest and experience in the IT sector. With over 5 years' experience in international IT project management and start-ups, he will strengthen the Ensior team with his innovative and entrepreneurial methods.
Coen de Koning has been at the forefront of Business Object Netherlands since 1994. Previously, he worked as pre-sales consultant and made many companies enthusiastic about the SAP BO BI solutions. Nowadays as Senior BI Consultant, he wants to help companies maximize the added value of their BI solutions.
Kuba Brys started at Ensior after finishing his thesis. He assists us in our daily marketing and sales activities. "I have a passion for translating data into concrete actions, this makes marketing in a BI environment so interesting".