SAP BusinessObjects
The SAP BusinessObjects BI platform is a very complete, flexible and scalable reporting and analysis environment designed for established organisations who make decisions based on reliable and collective insights.
Advantages:
More autonomy fort the user
One definition layer (Universe) for all BI functions
Central management module (rights, users, admin)
Lower IT costs
SAP BusinessObjects BI Platform offers each user type an appropriate functionality, using one centrally managed definition layer.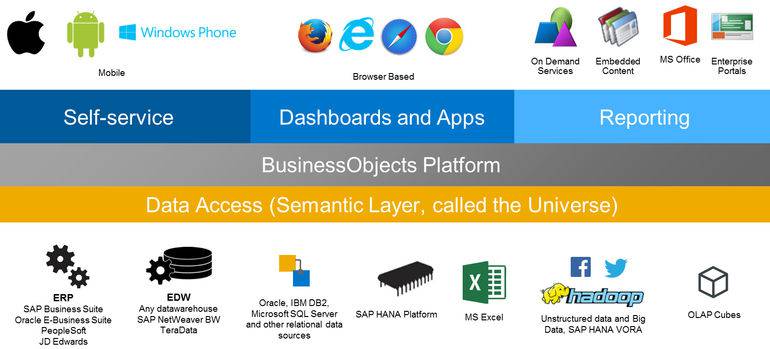 SAP Information Design Tool
The information design tool (IDT) is an SAP BusinessObjects metadata design environment that enables a designer to extract, define, and manipulate metadata from relational and OLAP sources to create and deploy SAP BusinessObjects universes. A universe is an organized collection of metadata objects that enable business users to analyze and report on corporate data in a non-technical language.
Features IDT:
Connect to almost any relational database , OLAP source , SAP BEx Query, SAP HANA , Web Services , local files and more.
Defining relationships between tables.
Translate technical database fields into business objects.
Multi Source Possibilities.
Ability to create security profiles for data restrictions.
Create reports, dashboards and analyzes using the universe created in IDT.
SAP Web Intelligence
Build your standard management reporting and answer new and complex questions immediately, without first having to wait for help from the IT department, through the semantic layer, the Universe. SAP Web Intelligence provides your users with self-service access, ad-hoc reporting and intuitive analysis of data from heterogeneous sources, via the web, desktop or mobile devices.
Intuitive and interactive ad hoc reporting and analysis
Combine data from multiple sources into dynamic dashboards
Options for complex calculations and graphing operations
Share reliable insights with colleagues and customers
SAP Data Services
SAP Data Services in one solution for all data integration, data quality management, data profiling, and text analysis. This allows you to integrate several sources of reliable data, transform, enhance and publish, to support critical business processes and well-founded decision making.
Make important information shareable
Data integration and data quality in one tool
Better manageability of your data, lower TCO
SAP Analytics Cloud
SAP Analytics Cloud (formerly SAP BusinessObjects Cloud) combines all the possibilities for analytics, including planning, Predictive Analytics and Business Intelligence (BI) in one place in the Cloud.
The Business Intelligence functionality will give answers to your business questions from a single portal. This could be real time, where the data comprises a mix of different sources (On-premises and/or the Cloud). This BI functionality allows you to perform data visualizations , ad hoc reporting and predictive analytics from one single place.
Explore , visualize, plan and predict with one product.
Based on SAP HANA Cloud Platform
Analytics on a subscription basis
Native integration with on- premises applications and data sources
Related items: