SAP Business Analytics
The SAP BusinessObjects BI platform is a very complete, flexible and scalable reporting and analysis environment designed for established organisations who make decisions based on reliable and collective insights.
Advantages:
More autonomy fort the user
One definition layer (Universe) for all BI functions
Central management module (rights, users, admin)
Lower IT costs
SAP BusinessObjects BI Platform offers each user type an appropriate functionality, using one centrally managed definition layer.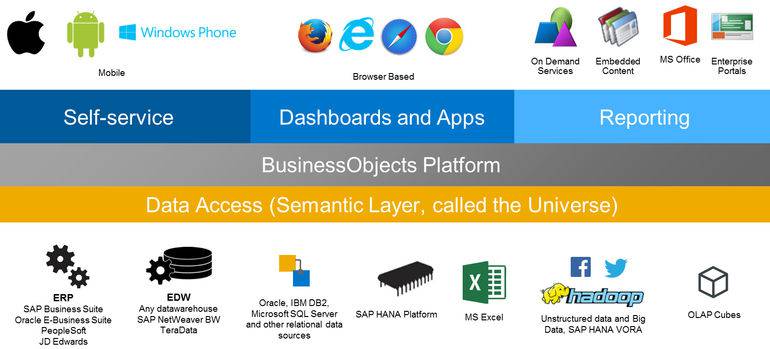 SAP BusinessObjects Web Intelligence
Build your standard management reporting and answer new and complex questions immediately, without first having to wait for help from the IT department, through the semantic layer, the Universe. SAP BusinessObjects Web Intelligence provides your users with self-service access, ad-hoc reporting and intuitive analysis of data from heterogeneous sources, via the web, desktop or mobile devices.
Intuitive and interactive ad hoc reporting and analysis
Combine data from multiple sources into dynamic dashboards
Options for complex calculations and graphing operations
Share reliable insights with colleagues and customers
SAP Analytics Cloud
SAP Analytics Cloud (formerly SAP BusinessObjects Cloud) combines all the possibilities for analytics, including planning, Predictive Analytics and Business Intelligence (BI) in one place in the Cloud.
The Business Intelligence functionality will give answers to your business questions from a single portal. This could be real time, where the data comprises a mix of different sources (On-premises and/or the Cloud). This BI functionality allows you to perform data visualizations , ad hoc reporting and predictive analytics from one single place.
Explore , visualize, plan and predict with one product.
Based on SAP HANA Cloud Platform
Analytics on a subscription basis
Native integration with on- premises applications and data sources
Related items:
SAP Lumira Discovery
Access, edit and visualize data from different sources into every conceivable type of visualization, all by yourself. Bring your data to life with the help of stunning interactive country maps, visuals, storyboards and infographics. Or use data discovery features to gain new surprising insights. Share your visualizations with your colleagues and customers using the BusinessObjects BI Platform or make your storyboard a professional corporate dashboard by displaying it in Lumira Designer.
SAP BusinessObjects Lumira Discovery is available either as stand-alone or in combination with BusinessObjects BI Platform and can be used at no extra cost within the new licence structure of SAP BusinessObjects.
Integration with SAP BusinessObjects platform
In-memory Self-Service tool for business analysts
Counterpart of PowerBI
Option of universe connection to safeguard "trusted data"
Multiple connection sources possible including Big Data
Can be made available via mobile phone
SAP Lumira Discovery: Creating Business Presentations
SAP Lumira Discovery: Explained in 3 Minutes
SAP Lumira Designer
SAP Lumira Designer (previously SAP BusinessObjects Design Studio) is a separate client tool, but corresponds with Lumira Discovery falling under the Lumira product banner since the release of the Lumira 2.0. While the Lumira Discovery Self-Service BI offers options for data Discovery and Storytelling the Lumira Designer provides the opportunity to make a professional analytical application/Enterprise dashboard. They are both in the BI Platform together as an integrated module with two Client tools. The big advantage of this is that the two tools are interchangeable. This enables the business user to work together with a technical specialist to create an Enterprise dashboard, while obviously the business user will start in the SAP Lumira Discovery.
Also works with data sources SAP BW, HANA and Universes
From Lumira 2.0 onwards offline data sources are also possible
Interchangeable with SAP Lumira Discovery
Mobile options with "Adaptive layout" for different screen sizes such as tablet, and telephone.
Complex intelligence can be built into the app
ESRI maps are included
SAP BusinessObjects Mobile
In today's mobile work environment sometimes time-critical decisions must be made while on the move. But to do this, it is necessary to have real-time data such as project schedules, customer dashboard and KPI's at hand. The SAP BusinessObjects Mobile app is free to download and provides access to all BO reports, dashboards and visualizations from the BI Suite.
Maintains interactivity, downdrillen etc.
Also performs analyses on the mobile BI app
Secure access
Respond immediately or forward via e-mail
Related items:
SAP Predictive Analytics
SAP Predictive Analytics provides Business users, analysts, data analysts, and others in your company Insights with predictive value. The software uses automated technique to generate predictive models which bring advanced real-time insights. That makes it easier to make better decisions
Automate data preparation, predictive modeling, and deployment.
Leverage advanced visualization capabilities to quickly reveal insights.
Integrate with R to enable a large number of algorithms and custom R scripts.
Social Network Analysis (SNA) for analyzing and visualizing relationships among customers.
Deploy SAP Predictive Analytics stand-alone or with SAP HANA.
SAP Crystal Reports
With SAP Crystal Reports, you design pixel-perfect reports and documents through a link with virtually any data source. You can then share these reports with all your users via the BI platform.
Pixel-perfect reports and documents
Directly connected to sources or via the BO universe
Installable business applications