Mobile Report Publisher was ook wel bekend onder de naam Datazen, voordat het in April 2015 is overgenomen door Microsoft. Deze tool is nu volledig geïntegreerd in SQL Server Reporting Services (SSRS) 2016. De verwachting is dat SQL Server Reporting Services 2016 officieel eind 2e kwartaal 2016 ge-released wordt. In deze blog willen alvast een voorproefje geven hoe dat er uit ziet.
Waarom Mobile Report Publisher?
Maar eerst antwoord op de vraag wanneer we moeten kiezen voor Mobile Report Publisher? Microsoft onderscheid de volgende typen rapporten, waarbij ik Excel even buiten beschouwing laat.
Op basis van dit plaatje zullen velen dan zeggen "We kunnen toch Power BI gebruiken en dat werkt toch prima op een mobiel device!". Met deze bewering is ook helemaal niks mis en er is inderdaad op het gebied van functionaliteit grote overlap tussen de verschillende tools. Echter wordt er aan 1 belangrijke keuze voorbij gegaan en dat is kies ik voor de Cloud of kies ik voor On-Premise? Power BI is namelijk op dit moment alleen nog een cloud oplossing, tenminste als je de tool serieus inzet door informatie te delen via powerbi.com en ook de Power BI mobiele app wil gebruiken.
Ben je als bedrijf om wat voor reden dan ook nog niet toe aan de cloud dan is, maar wil je wel met Mobile Reports aan de slag dan is de tool Mobile Report Publisher een goede keus.
Wat heb je nodig?
Allereerst heb je SQL Server 2016 nodig waar Reporting Services 2016 een onderdeel van is. Daarnaast heb je Mobile Report Publisher nodig dat een aparte installatie vergt, maar gratis te downloaden is van de Microsoft site. Is de tool eenmaal geïnstalleerd dan is er een connectie nodig naar een dataset. Dan kan Excel zijn of een gedeelde dataset in Reporting Services. De gedeelde dataset in Reporting Services kan van een willekeurig databron zijn en hoeft niet perse van een Microsoft bron te komen.
Hoe werkt het?
De Mobile Report Publisher bestaat uit een voor gedefinieerd canvas waar je naar keuze 1 of meerdere visualisaties kwijt kan. De visualisaties kunnen bestaan uit meters, grafieken, kaarten en selectie lijstjes.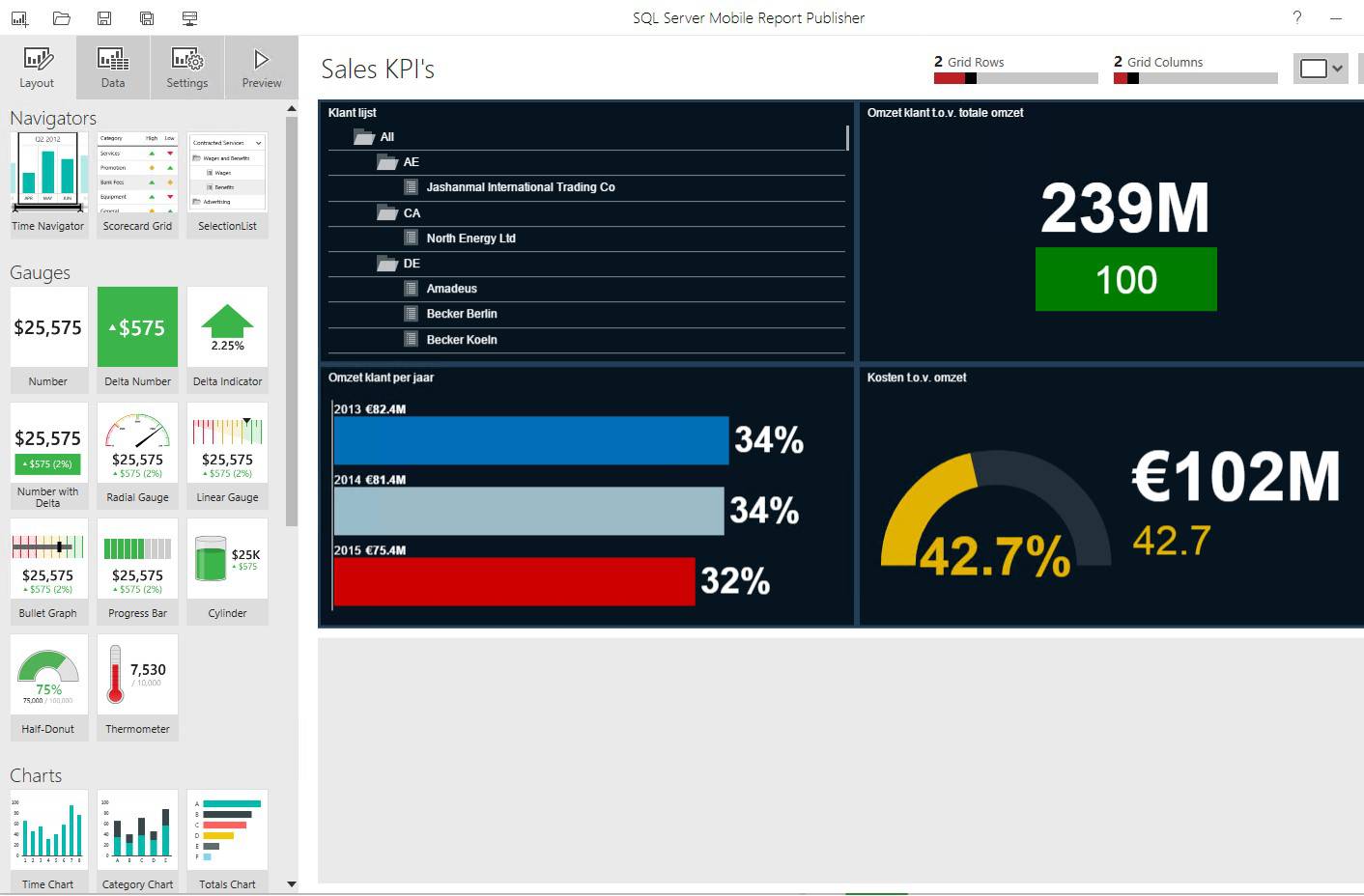 Wanneer het dashboard eenmaal gemaakt is en gedeeld moet worden met een bepaalde groep gebruikers dan kan het gepubliceerd worden naar de Reporting Services portal. Het ook kunnen gebruiken van dit dashboard in de Microsoft Power BI app is een kwestie van de juiste poort open zeten of een VPN connectie definiëren. Het grootste voordeel van Mobile Report Publisher is dat de dashboards automatisch geschaald worden naar elke scherm grootte of dat nu een browser, tablet of telefoon is.
Browser:
Iphone/Ipad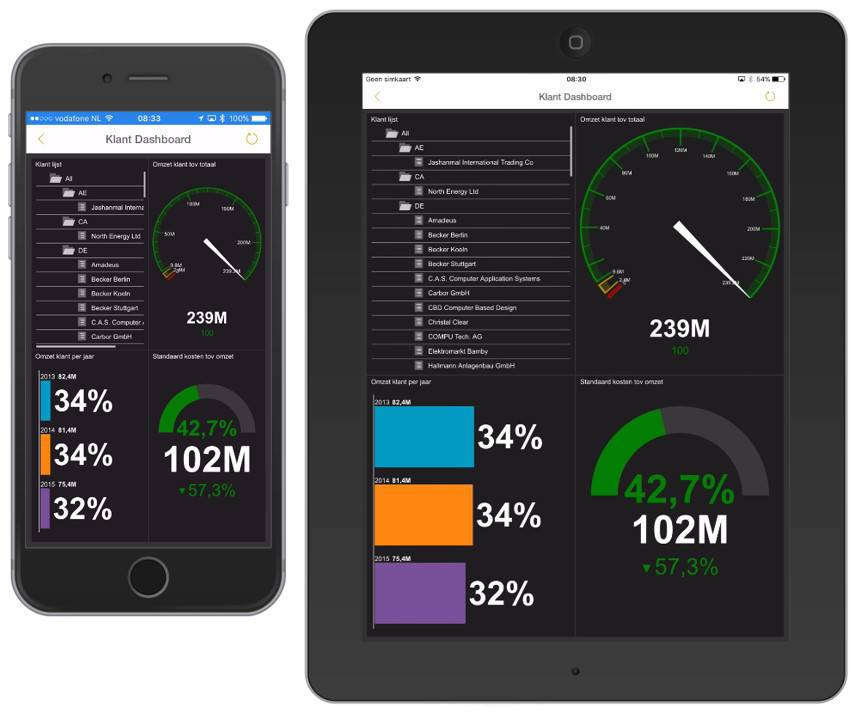 Conclusie
Mobile Report Publisher is een prima tool voor de bedrijven die de keuze maken om on-premise te blijven, maar toch graag met mobiel aan de gang willen. De integratie met SQL Server Reporting Service is een mooie stap voorwaarts plus het voordeel dat hier verder geen licentiekosten aan verbonden zijn. Wel gaat hier wat meer energie zitten in het opzetten van de dataset omdat die in Mobile Report Publisher niet verder bewerkt kan worden.