In de nieuwe versie 4.1 van SAP BusinessObjects Mobile voor de iPad zijn een aantal interessante nieuwe features beschikbaar gekomen. Om gebruik te kunnen maken van deze nieuwe features dient naast een update van de App ook de BO server te worden ge-update.
Dit betekent voor onderstaande versies het volgende.
- SAP BusinessObjects BI 4.0 –> update naar BI 4.0 SP02 Patch 13 of hoger
- SAP BusinessObjects BI 4.0 FP3 (Ramp Up fase) –> update naar BI 4.0 FP3 patch 1 of hoger
- SAP BusinessObjects XI 3.1 –> update naar XI 3.1 FixPack 5.1 of hoger
Na de update van de server re-deploy als laatste stap de MobileBIService.war naar [Tomcat home directory]\webapps.
De belangrijkste nieuwe features die dan beschikbaar worden zijn.
Drill down
Input Control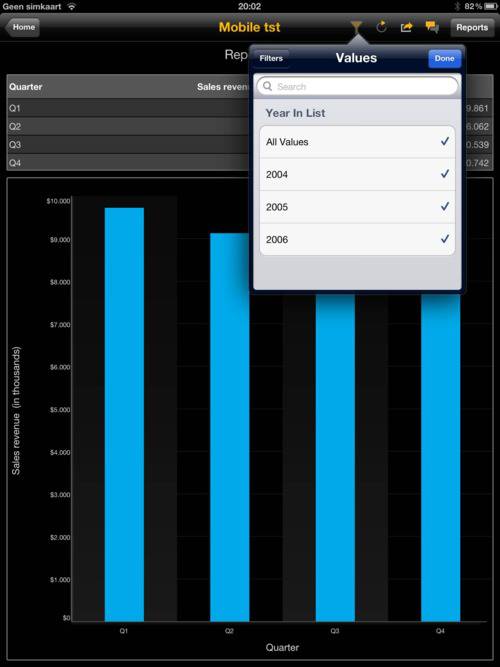 Ondersteuning van sections
Maken van aantekeningen en het versturen naar andere gebruikers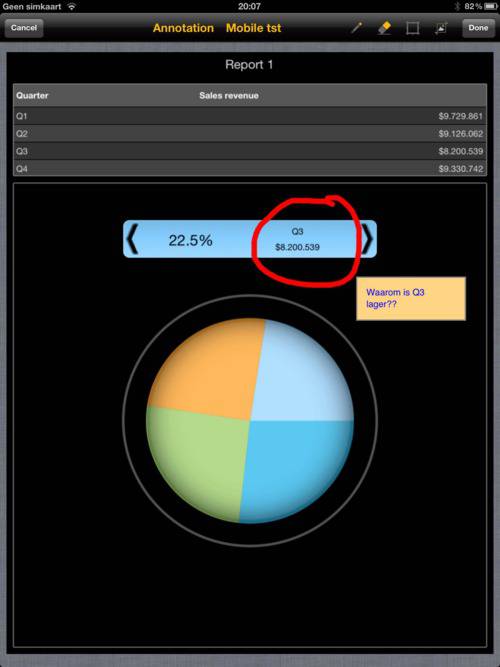 Andere nieuwe features zijn:
Ondersteuning van multi-dimension grafieken.
De mogelijkheid voor de beheerder om vanuit de mobile BO server in te stellen om de optie "Save password" op de iPad niet toe te staan.
De toevoeging van de categorie "confindential". Wanneer rapporten daarin geplaatst zijn, worden ze niet lokaal opgeslagen en kunnen ze alleen bekeken worden als er connectie gemaakt wordt met de mobile server.
De mogelijkheid voor de beheerder om de "validity time (SSL)" in te stellen. Dit betekent dat de beheerder kan instellen dat rapporten altijd naar een x aantal dagen gewist worden van de iPad. Wil de gebruiker de rapporten weer bekijken dan zal opnieuw een connectie gemaakt moeten worden om de laatste versie van het rapport weer van de server op te halen.