Vanaf SAP Business Objects Platform versie 4.1 SP2 is het mogelijk om via Excel en Microsoft Power Query een connectie te maken naar een SAP BusinessObjects universe (alleen UNX). Microsoft Power Query is een gratis add-in voor Excel en biedt "self-service" voor Business Intelligence in Excel.
Microsoft Power Query is te downloaden vanaf de Microsoft site

De Microsoft Power Query connectie met het SAP Business Objects Platform komt tot stand via de RESTful web services. Ook SAP Lumira maakt hier gebruik van om te connecten met het SAP Business Objects Platform. Zorg ieder geval dat de WACS service (Web Application Container Server) die hier verantwoordelijk voor is draait en enabled is.
Wannneer Microsoft Power Query geïnstalleerd is kan via het PowerQuery menu in Excel gekozen worden voor "from other sources" en dan "SAP BusinessObjects BI Universe data source".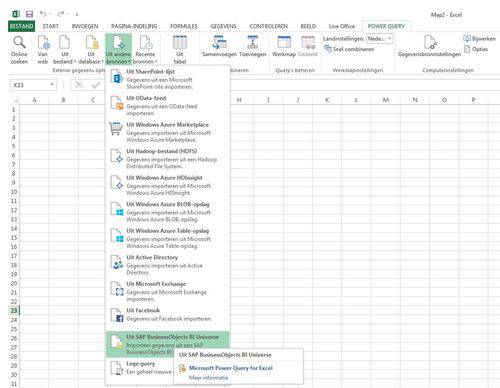 De connectie URL om in te loggen is als volgt: http://<BO_applicatie_server>:6405/biprws
Na inloggen met je BusinessObjects credentials (Ja, een BO licentie is vereist) krijg je de universes te zien die gemaakt zijn met de Information Design Tool en kan je de objecten en measures selecteren die je terug wilt zien in je resultaat query.
Filters toepassen op je query ziet er hier anders uit dan we gewend zijn dan in de SAP BusinessObjects suite. Dit gaat namelijk via de Excel "look and feel" met behulp van pick-up lijstjes. Complexe query filters maken wordt hiermee wel een stuk lastiger.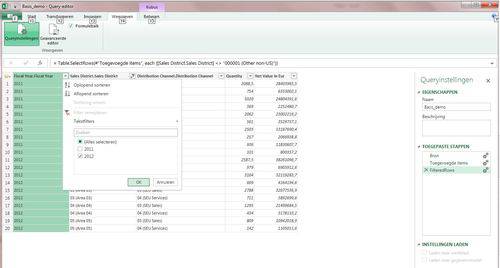 Zodra de data eenmaal in MsExcel is ingeladen kunnen de standaard functionaliteiten van Excel zoals draaitabellen, formules, ect. erop losgelaten worden. Maar de extra kracht zit hier in de Business Intelligence functionaliteiten die de add-in Microsoft Power Query met zich mee brengt zoals onder andere alerts, geavanceerde grafieken en combineren van (externe) bronnen.
Maar wacht eens even!! Kunnen we niet hetzelfde (en meer) met de SAP BusinessObjects tools zoals Web intelligence, SAP BO Explorer en SAP Lumira. Uiteraard! Daarom zie ik voor deze tool in combinatie met SAP BusinessObjects alleen een selecte groep Excel "Die Hards" als doelgroep die dan toch gebruik maken van dezelfde business definities van het BusinessObjects universe.
Andere vragen om over na te denken zijn support (Bij wie moet ik zijn voor bepaalde errors? SAP of Microsoft?) en hoe ziet de toekomst eruit?(Worden toekomstige versies/features ondersteund?)
En wat is eigenlijk het verschil met de add-in SAP BusinessObjects Live Office voor Microsoft Office? Hierover meer in een volgende blog.