Eind februari heeft SAP in een Webinar de Analytics Roadmap voor 2019 gepresenteerd en tevens de End of Life Dates gecommuniceerd voor SAP BI versie 4.x. In deze blog een samenvatting van het nieuws.
End of Life Dates
SAP heeft het volgende bekend gemaakt betreffende End of Life Dates voor BusinessObjects BI versies.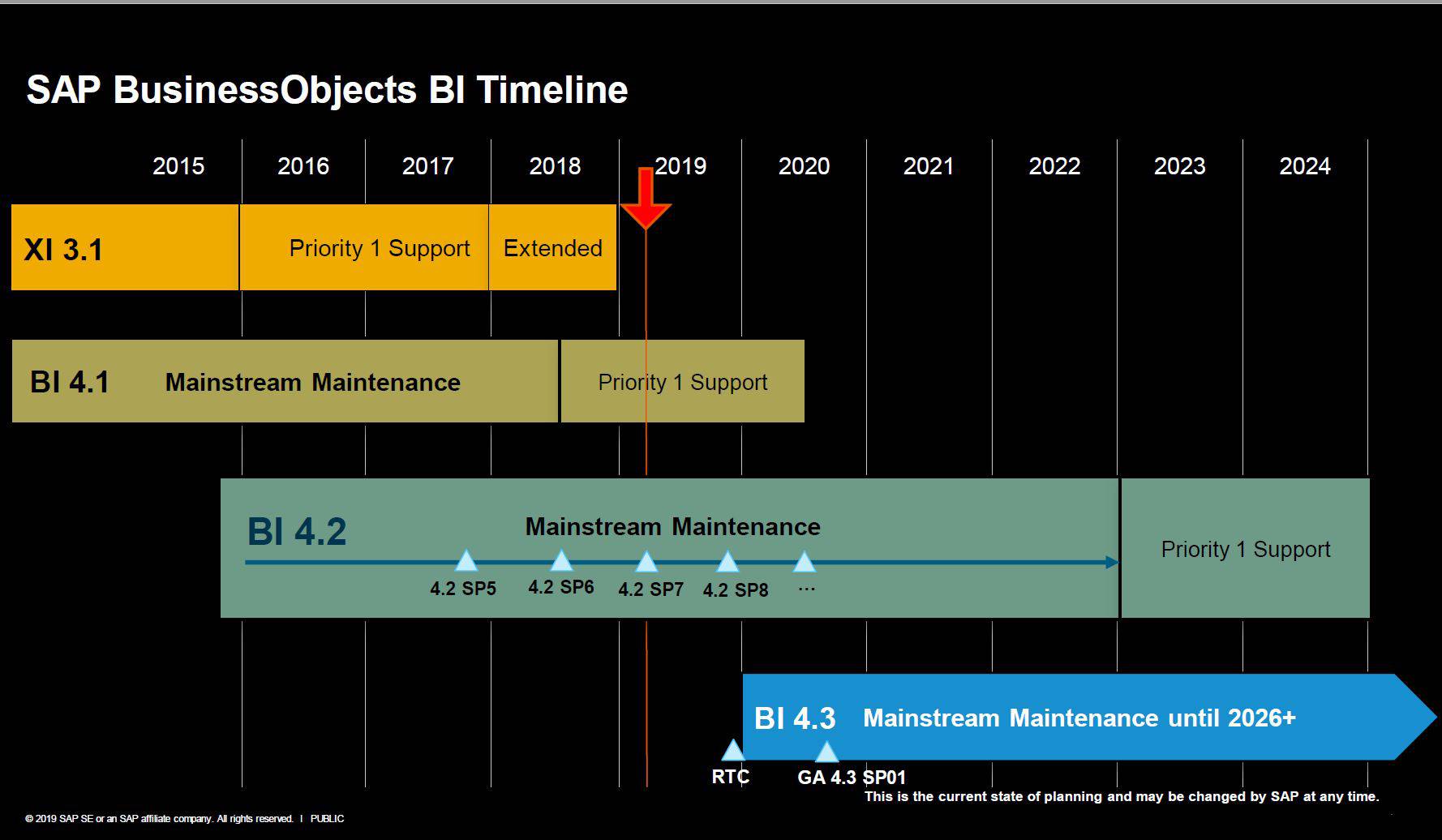 Dit betekent het volgende:
SAP BO 3.1 versies
Einde van Extended support per eind 2018.
SAP BO 4.1 gebruikers
Versies 4.1 SP10 of ouder zijn al End of Life!
Gebruikers met versie 4.1 SP11 en SP12 hebben alleen nog recht op Priority 1 support. 4.1 SP11 tot en met augustus 2019 en 4.1 SP12 tot en met eind december 2020. Er worden geen patches meer uitgebracht voor deze releases en alleen kritische productie erorrs worden in behandeling genomen.
SAP BO 4.2 gebruikers
Versies van 4.2 SP4 of ouder zijn al End of Life! Voor versie 4.2 SP5 of hoger zullen ieder geval patches uitgebracht worden tot en met eind 2020. Rond eind 2019 komt versie 4.3
Zie ook BI Support Pack End of Life Dates
Dus upgrade tijdig om volledige support te behouden. Daarnaast biedt een upgrade ook weer nieuwe features zoals nieuwe visualisaties in WebI, Fiori Lauchpad, Parallel Queries functionaliteit, SAP Analytics Cloud (SAC) connectiviteit, ect.
SAP BusinessObjects BI Roadmap 2019
De SAP BusinessObjects BI Roadmap 2019 legt de nadruk op een hybride release. Rond eind 2019 zal de On-Premise release SAP BI 4.3 uitkomen. Daarnaast wordt er veel geïnvesteerd in SAP Analytics Cloud dat de tool is binnen SAP Analytics voor Data Discovery, Self Service BI (en Dashboarding).
Hoe trekt SAP BusinessObjects klanten over de streep om ook SAP Analytics Cloud te gebruiken als we naar de Roadmap van 2019 kijken?
Door flink te investeringen in SAC. Elk kwartaal een nieuwe release met nieuwe features en verbeteringen.
Live universe connector (data blijft On-premise) verbeteringen (eerst versie 2.0 en later versie 3.0 bij SAP BI 4.3 release) zodat alle functionaliteit van SAC gebruikt kan worden en de ervaring hetzelfde is als On-Premise.
Door ook Enterprise Reporting naar SAC te brengen als functionaliteit. Dit betekent dat er features in komen zoals Page driven reports, Header and Footers, Custom Font, Repeating Content, Scheduling en Bursting naar verschillende export typen.
Toevoegen van Application Design (Lumira Designer) in SAC. Dit staat gepland voor Q2 2019.
Hergebruik van Webi content (Dimensies, Measures, Variables) in SAP Analytics Cloud
Mogelijkheid om niet gebruikte licenties om te ruilen voor SAC licenties. Of niet gebruikte functionaliteit om te ruilen voor SAC licenties (bijvoorbeeld WebI only voor On-Premise). Informeer naar de

This email address is being protected from spambots. You need JavaScript enabled to view it.

.
Voor meer details over functionaliteiten in SAP BI 4.3 zie ook de blog SAP BI 4.3 de belangrijkste wijzigingen en nieuwe functionaliteiten
Conclusie
Het is goed om te zien dat er nog geïnvesteerd wordt in nieuwe SAP BusinessObjects On-Premise versies en het voor klanten makkelijker gemaakt wordt om een hybride BI oplossing te omarmen die daadwerkelijk meer waarden kan hebben.